HOW TO BECOME A PLUMBER
1) Get your High School Diploma, GED or Equivalent:
A plumber needs a solid foundation in math, physics and blue print reading. Although not mandatory, a high school diploma or equivalent is recommended.
2) Pre-Apprentice Training:
Plumbers are required to start off as an apprentice in their respective fields. But before getting an employer to hire you as an apprentice, you will need some prior training. This is where a pre-apprenticeship training program can mean the difference between finding employment or not. At the Skilled Trades College, we have a Plumbing Pre Apprentice Program to give students the right mix of theory and hands-on experience needed to make them successful apprentices. Plumbing classes at Skilled Trades College of Canada will provide you with safety training, introduction to plumbing, theory, plumbing code, residential prints, math for plumbers, and plumbing practical techniques. The certificate will help you learn your water supply, drainage systems, as well as working with piping equipment.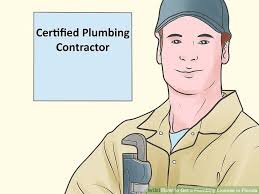 3) Start your Plumbing Apprenticeship:
After you have successfully completed a plumbing pre apprenticeship program, you will then take part in your apprenticeship, where you will earn while you learn, where you get paid for the work you do while learning the respective trade, and ever so often, you will go back to school for eight-week blocks of technical training. After completing 9,000 apprenticeship hours, you can apply to write your certificate of qualification exam.
4) Get your License:
After completing your plumbing training, obtaining and completing your plumbing apprenticeship, and passing your C of Q exam, you will then obtain your license to become fully certified in your region.